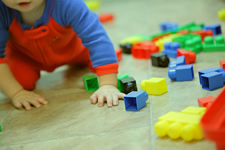 There's some recent news from the capitol and it's going to help parents (especially ones with children in school and daycare) get one step closer to breathing a little easier when it comes to knowing what their children are playing with.
In early November, over 13,000 public health professionals from across the U.S. came together at the American Public Health Association's (APHA) annual public meeting.  One of the key results of this meeting was the passing of a major policy resolution: "Reducing PVC in Facilities with Vulnerable Populations." In short, this resolution urges governments to take the necessary steps to stop the use of flexible PVC in consumer products (ie: toys, school supplies, lunch-box items, etc) that may be used in schools, daycares and other places with young children.  (The resolution extends to cover all vulnerable groups including the elderly and those with medical illnesses as well as the facilities in which they occupy.) This is important because it shows that one of the largest health organizations in the country now officially recognizes the ill effects that PVC and phthalates can have on a child's health.
PVC is the world's most hazardous (and widely-used) plastic.  It releases phthalates, dioxins and vinyl chloride.  (Check out our previous blog on the Most Common Chemicals Found in Children's Toys. Yet it continues to be used in children's toys and other items commonly found in your child's classroom or daycare center.  This resolution will hopefully put additional pressure on all levels of government to look more closely at the serious dangers these chemicals present to our children and work to eventually, by law, eliminate the use of PVC altogether.
This is a huge step forward.  Although it's not yet law, it brings some significant weight towards making it so.  In the meantime we, as parents, can ensure that any toys in our homes are PVC-free.  We can also encourage our schools and daycare centers to adopt a similar goal.  Take a few minutes to clean out that toy box or backpack, and then visit www.HazelnutKids.com to check out our vast selection of entirely PVC-free toys and children's items!
Shannon Beery – Hazelnut Kids Customer Service, Contributing Blogger, and Mother to Holden and Quinn